Time well spent in Bozeman between events
If you're lucky enough to be invited to a wedding weekend in Bozeman, you're lucky indeed. Kimpton Armory Hotel lays Bozeman at your boots. Between the brunches and the parties, you'll have time to explore a little or lot. (And if it's just a little, pop up to Sky Shed, our all-season rooftop bar, for a specialty cocktail and panoramic mountain views.) When you have more time between wedding events, peruse our list of options below. We've selected a variety of our favorites, from boutiques to bison to mountain biking. We can't wait to welcome you.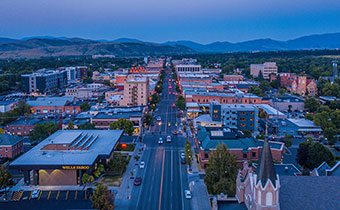 A Couple Hours
Step from our doorway directly into Downtown Bozeman. There's plenty to see, do and taste: antiques and boutiques, bookstores and thrift stores, wine rooms and tap rooms, tapas and steaks. All amid the Old West charm of historic brick buildings.
Montana Grizzly Encounter is a one-of-a-kind opportunity to learn about grizzly bears "up close," yet safely. Rescued from orphaned or inhumane situations, these grizzlies are unable to live in the wild, but they're thriving in this natural mountain setting.
Meet "Rocky Rex," the complete skeleton of a Tyrannosaurus rex discovered in Montana, at the Museum of the Rockies (MOR). One of the planet's finest research and history museums, MOR thrills visitors with planetarium shows, fossil displays and exhibits from around the world.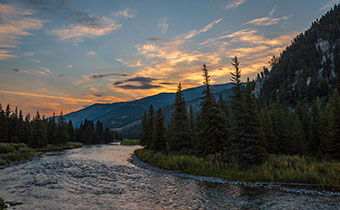 Half a Day
Founded in 1879, Bozeman Hot Springs is a rejuvenating retreat with 12 different pools ranging from 59° to 106°, both indoors and out. Soak in the therapeutic waters, and enjoy the fire and lights during a nocturnal plunge.
Prefer moving water? Go whitewater rafting or tubing on one of three breathtaking local rivers. Blue-ribbon fly fishing awaits you, too.
Need some me time after your Montana odysseys — or after dancing the night away at the wedding reception? Pamper yourself with a blissful body wrap or massage at one of our local spas. Your serenity is time well spent.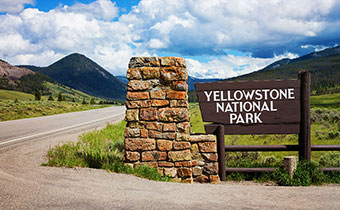 Full Day
Just 90 minutes away from Bozeman, Yellowstone National Park is a dynamic natural wonder all to itself. Explore Roaring Mountain, Mud Volcano, Mystic Falls and the largest high-elevation lake in North America. Wildlife ranges from bobcats to bison, with more than 60 species of mammals and 200 species of birds. In fact, a full day will be woefully insufficient to appreciate America's first national park, but even a moment there is worth it.
Calling all ski aficionados: two world-class resorts are within an hour's drive of Bozeman. Big Sky Resort lures you with its vastness, while Bridger Bowl is the laid-back choice of many locals. Together they provide a combined 7,000 vertical feet, almost 8,000 skiable acres and après-ski scenes.
For scenic summer hikes taking you past dense forests, meadows, lakes and waterfalls, head 15 miles south of Bozeman to Hyalite Canyon Recreation Area. You can spend the whole day hiking the 16.2-mile trail (rated "difficult"), where you'll wander past a small lake on your way up to Hyalite Peak — some 3,789 feet up. Or take the shorter 2.8-mile hike at History Rock, which borders the stunning Hyalite Reservoir. Winter offers ice climbing and skiing.